Ag leaders discuss issues impacting farmers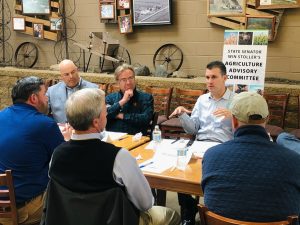 In an effort to encourage dialogue about agricultural issues, State Senator Win Stoller (R-Germantown Hills) hosted his first Agriculture Advisory Committee on April 9 at Tanners Orchard in Speer, IL.
Comprised of farmers, farm bureau representatives, and other leaders in the agricultural field, the Committee discussed ways Illinois could better support the agriculture community and farmers.
"Agriculture is the main foundation of Illinois' economy and the top jobs driver in the state," said Sen. Stoller. "The members of my Ag Advisory Committee are the experts in our communities, who have years of first-hand knowledge and experience. I am fortunate to have their advice and input."
Friday's meeting began with a brief welcome by Sen. Stoller, and then remarks from Mark Raney, Associate Director of State Legislation for the Illinois Farm Bureau, who gave an agriculture legislative update. The meeting ended with a roundtable discussion among all attendees.