Seeks to Save Business Owners Thousands of Dollars at no expense to the State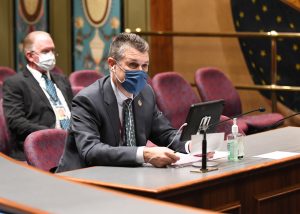 State Senator Win Stoller's (R-Germantown Hills) legislation that would put money back into the pockets of struggling small business owners passed out of the Senate Revenue Committee Wednesday and now heads to the full Senate for a vote.
Senate Bill 2531 utilizes an IRS-approved method to allow pass-through entities, such as S-corporations and partnerships, to bypass the $10,000 cap on the State and Local Tax (SALT) deduction, which was introduced by the federal Tax Cuts and Jobs Act in 2017.
"In a state where taxes are among the highest in the nation, my S.A.L.T bill will help alleviate some of that burden for our small businesses," said Sen. Stoller. "With just a simple change to our state's tax code, we can help struggling small businesses save thousands of dollars."
Senate Bill 2531 allows a small business to elect to be taxed at the entity level, instead of letting the income pass through to their personal return. The owner would then claim an offsetting credit on their state return.
"Amid the ongoing COVID recession, this legislation is a common-sense approach to helping our state's business community," said Illinois Chamber of Commerce President and CEO Todd Maisch. "This bill has the power to help thousands of Illinois business owners keep more of their hard-earned money during a time they need it most. I thank Senator Stoller for carrying this important piece of legislation and recognizing the struggles business owners face."
The legislation could help up to 400,000 Illinois business owners save thousands of dollars annually on their federal tax filings, and would add no cost to the state of Illinois. Currently, fourteen states have passed or are in the process of passing similar legislation.
"In a time where businesses have been struggling to survive, we must take advantage of every opportunity we can to support them," said Sen. Stoller. "This bill is no brainer, it cost the state nothing and several other states have already implemented similar provisions."
Senate Bill 2531 passed the Senate Revenue Committee with a vote of 9-0 and now goes to the Senate floor for further consideration.