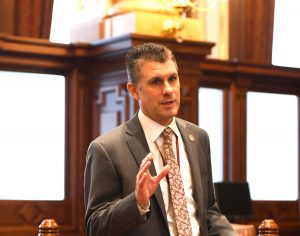 State Senator Win Stoller (R-Germantown Hills) released the following statement after Senate Bill 2531 passed out of the Illinois Senate on April 21:
"This legislation has the potential to help up to 400,000 Illinois business owners save thousands of dollars annually on their federal tax fillings at no cost to the state of Illinois.
"This past year has been challenging for all of us, but especially for our small business community. Through the passage of my S.A.L.T. bill, the state can begin to help alleviate some of the burdens they currently face.
"This is a common-sense, bipartisan proposal that passed unanimously out of the Senate. I look forward to continuing to advocate for this proposal as it moves through legislative process."
In the spirit of bipartisanship, Sen. Stoller has reached out to Democrat members of the House, including State Representative Anthony DeLuca (D- Chicago Heights) who will carry the bill in the House.
Senate Bill 2531 utilizes an IRS-approved method to allow pass-through entities, such as S-corporations and partnerships, to bypass the $10,000 cap on the State and Local Tax (SALT) deduction, which was introduced by the federal Tax Cuts and Jobs Act in 2017.
Currently, fourteen states have passed or are in the process of passing similar legislation.